The general theory of tamper-resistant fasteners is to make a fastener whose loosening requires a tool that a tamperer is unlikely to have on hand at the time of opportunity for tampering. There is no expectation that it will be impossible for a tamperer to obtain the driver. Rather, the main idea is simply that most tamperers will not bother to seek out and obtain a driver. In the case of end-users, this reduces the incidence of do-it-yourself repair or modifications (and any resulting injury or product damage). In the cases of vandalism prevention and theft prevention, since most vandalism and theft incidents are simply crimes of easy opportunity, the idea is to "raise the bar" and make the opportunity less convenient.
Protruding obstacle head
Tamper-resistant external-torx driver
Many screw drives, including Phillips, torx, and hex socket, have tamper-resistant variants. These typically have a pin protruding in the center of the screw head, necessitating a special tool for extraction. In some variants the pin is placed slightly off-center, requiring a correspondingly shaped bit. However, the bits for many tamper-resistant screw heads are now readily available from hardware stores, tool suppliers and through the Internet. There are also many commonly used techniques to extract tamper resistant screws without the correct driver — for example, the use of an alternative driver that can achieve enough grip to turn the screw, modifying the head to accept an alternative driver, forming one's own driver by melting an object into the head to mould a driver, or simply turning the screw using a pair of locking pliers. Thus, these special screws offer only modest security. However, it is often enough to discourage the more opportunistic varieties of vandalism.
One-way only head
One-way slotted screw
The slotted screw also comes in a tamper-resistant one-way design with sloped edges; the screw can be driven in, but the bit slips out in the reverse direction. One-way screws can be removed using a screw extractor like any other safety screw.
Proprietary head
There are specialty fastener companies that make unusual, proprietary head designs, featuring matching drivers available only from them, and only supplied to registered owners[41]. These tend to be confined to industrial uses that the average layperson does not have contact with. But one example familiar to laypersons is the attachment for the wheels and/or spare tires of some types of car; one of the nuts may require a specialized socket (provided with the car) to prevent theft. Security fasteners are also available for bicycle wheels and seats to prevent theft.
Breakaway head
The breakaway bolt is a high-security fastener that is extremely difficult to remove. It consists of a counter-sunk flat head screw, with a thin shank and hex head protruding from the flat head. The hex head is used to drive the bolt into the countersunk hole, then the wrench or hammer is used to knock the shank and hex head off of the flat head, leaving only a smooth screw head exposed. Removal is facilitated by drilling a small hole part way into the outer part of the head and using a screw extractor or a punch and hammer at a sharp angle in a counter-clockwise direction. This type of screw is used primarily in prison door locks, but also has considerable usage in the fastening of street signs to sign posts by municipal public works departments.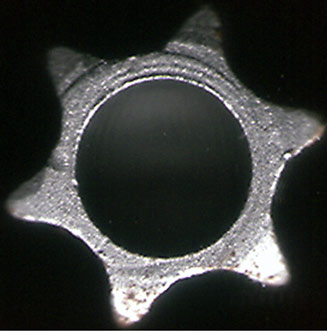 Tamper-resistant external-torx driver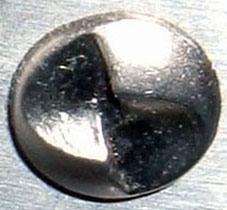 One-way slotted screw