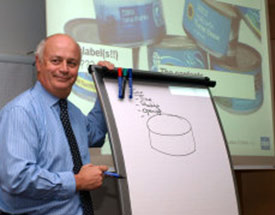 Rob Steele, ISO Secretary General
On 28 October 2009 Rob Steele, Secretary-General of ISO, the International Organization for Standardization, delivered a lecture to students of the Technische Universität Berlin.
(2009-11-03) Using as examples the credit card, cars and aeroplanes, but also water and the labelling of tins of tuna fish, Mr Steele demonstrated the way standards affect every aspect of our economic lives. Mr Steele spoke of being impressed by Germany's innovative drive in matters relating to new technology. On his flights between Europe and Asia, the seat next to him is regularly occupied by a German engineer on a business trip to see clients. Mr Steele summed up the structure of international organization with the words "In Germany, ISO is DIN". He went on to talk about current global challenges which standardization can help solve, and also about the challenges that face standardization and that are being tackled in a new ISO strategy which is currently under development.
Mr Steele gave the lecture at the invitation of Heinz Gaub of DIN's Management Board. Mr Gaub is in charge of lectures on "Strategic standardization" on behalf of Professor Knut Blind, Chair of Innovation Economics at the Department of Technology of the TU Berlin.
The course of lectures, which is being held for the third time in the 2009/10 winter semester, enjoys increasing popularity with 30 students currently taking part. Alongside the extraordinary lecture by Rob Steele, the course also incorporates guest lectures by other leading standards practitioners.